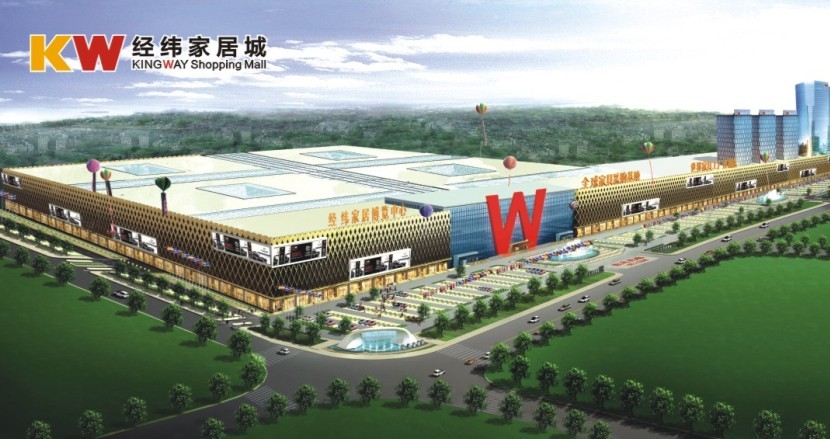 Before I went to Jingwei Hometown, I always thought that Red Star Macalline, Home Furnishing and other home stores were the biggest home stores I have ever seen, but after I went to Jingwei Home City, I found that the previous impressions were wrong. It is the largest and most professional furniture city I have ever seen. According to their staff, Jingwei Home City is currently the largest furniture city in the world. It turns out that it is really an eye-opener.
What surprised me even more is that Jingwei Home City is not only huge in appearance, but also has an internal structure. The previous building area of ​​Jingwei Home City is 250,000 square meters. There are currently 4 exhibition halls. Moreover, the Jingwei Hometown is equipped with a large-scale world furniture boutique pedestrian street. The pedestrian street houses hundreds of domestic and foreign famous home brand franchise stores, bringing together nearly 1,000 brands at home and abroad, more than 100,000 kinds of products - the world's largest indoor furniture experience hall, and the latitude and longitude The home city will be divided into living room area, bedroom area, restaurant area, kitchen area, bathroom area, office area, outdoor area, home decoration area, lighting area and building area according to functions, so that consumers can realize one-stop shopping. Really professional, is the most professional home store I have seen so many years.
The large size of Jingwei Home City is not only reflected in the large construction area, but also reflected in the variety of his products. It is really dazzling. It can be said that this is a home museum. What you want, you want to see everything. But what surprised me the most is that Jingwei Home City has always been careful and caring for customers. In the place where Jingwei Home City rests, you can always find cafes and books. Of course, you can also go to the small Internet cafes in the furniture city to go online. Experience the fun of surfing the internet in the furniture city. And when you drink coffee in the cafe, you can listen to the piano played by the musicians quietly. At that moment, your mind is washed.
When you come to Jingwei Home City, you will be shocked by its greatness, but when you enter it, you will find that Jingwei Home City contains more than a large, but also represents a culture of Jingwei, an inclusive connotation, so that each A variety of people can find what they want in them.
WEIHAI WEFISH OUTDOOR PRODUCTS CO.,LTD , https://www.wefishtackle.com